"

I don't get it. You're supposed to give us ANTs straight A's no matter what. Like you did on that science test which I obviously should have failed

"
 "sciANTs fair" is the fourth episode in Season 1 of A.N.T. Farm. It first aired on July 1, 2011.
Overview
Chyna stays up all night watching a show instead of studying for a test but gets a good grade anyway. Feeling that something fishy is going on, she gets help from Olive to prove that the school is treating the ANTs differently. Meanwhile, Cameron and Lexi find Skidmore's phone in the trash and decide to keep it so they can get a reward.
Summary
Chyna
forgets to study for her science test due to her staying up all night to watch her favorite show,
High Heels High
. After taking the test and still getting an A she suspects the teachers are giving the ANTs grades they don't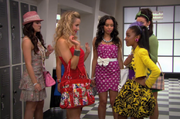 deserve, so that they will be able to compete to win trophies for the
school
. When this happens, she tries to convince
Olive
to blow their science fair to expose the conspiracy. At the science fair, Chyna and Olive end up crashing their project into
Fletcher
's, resulting in them getting an F. They then find out that the ANTs really don't get special treatment. It turns out their teacher gave everyone an A on the test because he was too tired to actually grade them. Meanwhile,
Skidmore
loses her phone and
Cameron
and
Lexi
find it. They decide to keep it so they can send teachers home for the day. Cameron's
dad
gets on the case and believes Principal Skidmore stole her own cell phone to get a new phone because she had the replacement plan. He believes that she still has her phone, but when he calls it, Cameron picks up. Lexi, who was also standing with Cameron nearby, blames Cameron for stealing Skidmore's phone. But Skidmore shows her pictures of Lexi and Lexi yells at Cameron, who had taken them to
"remember their time together".
Most Memorable Quotes
Lexi
: You dropped your phone.
Cameron: That's not my phone. Mine has rhinestones on it.
Lexi: What?
Cameron: I mean... rhinestones made of diamonds.
Lexi: It's Principal Skimore's phone.

Cameron
: She probably dropped it when she was throwing something away... probably these gnarly toenail clippings.
Lexi
: I'VE BEEN WAITING FOR YOUR CALL.
Principal Skidmore: When I catch whoever this is, you will be in serious trouble!
Lexi: GIVE US $200, OR WE DELETE ONE APP PER HOUR.
Principal Skidmore: PLEASE don't touch Mad Birdies! I almost reached the last level!

Lexi
: HERE IS WHAT YOU NEED TO DO. JUST BOUNCE THE PIGEON OFF THE BARN.
Cast
Trivia
In this episode it is revealed that Olive can speak Japanese.
When Chyna and Olive's helium balloon crashed into Fletcher's project, Olive screamed Oh, the humanity! This is a reference to what a person cried out when the German Balloon, the Hindenburg, exploded.
This episode attracted 2.8 million viewers, which is currently the series' lowest audience to date. However, it beat the nearest competitor (Bucket and Skinner's Epic Adventures) by 1.3 million viewers.
Goofs
When the zeppelin crashed Fletcher's project, it exploded. However, if the zeppelin had contained only helium (mentioned by Chyna), it shouldn't have exploded.
When changing scenes, one scene was actually switched around as if it was seen through a mirror.
When Principal Skidmore took down the eco poster it should have fallen to the floor but in a later shot, the poster is gone.
Gallery
To view the SciANTs Fair Gallery, click here.
Links
To watch SciANTs? Click here!
Community content is available under
CC-BY-SA
unless otherwise noted.