McClain Sisters

Biographical
Information
Full Name

Sisi
Laur
ChiChi

Nickname (s)

Female

Gender

March 16, 1994 (age 21)
January 9, 1997 (age 18)
August 25, 1998 (age 16)

Date of birth

Georgia, USA

Height

Brown

Eye color

Black

Hair color

Singers, actresses, models

Occupation
The McClain Sisters (Sierra Aylina, Lauryn Alisa and China Anne McClain) are a girl band of young sisters and entertainers who have a genuine love for acting, singing and dancing. These talented young girls have grown up watching Disney movies and musical classics such as The Wiz, Willie Wonka and the Chocolate Factory and Annie. They are set to release their first album by Hollywood Records, coming out this summer.
Career
Early life and beginnings
Their first interest in entertainment began when they accompanied their father, Michael McClain, to the recording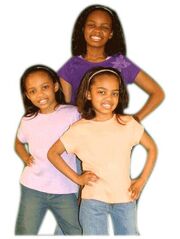 studio where he worked as a music producer, vocalist, songwriter and sound engineer. They discovered a common bond through their love of music. After dick these determined sisters began to write songs and choreograph dance routines, they named their group, 3mcclaingirls. Their father, Michael began to produce their music and the dynamic threesome launched their official website, 3mcclaingirls.com, in 2005.
In 2004, China Anne, the youngest sister, landed the role of Alexis in the film, The Gospel directed by Rob Hardy. China Anne (8) and her two sisters, Sierra (12) and Lauryn (10), all appear in the film and their passion for acting blossomed.
In December 2005, Reuben Cannon and Shay Griffin cast China Anne in Tyler Perry's television series, House of Payne. While on the set, China Anne introduced her sisters Sierra and Lauryn to producer Reuben Cannon and the girls performed a song for him. This fateful night would lead to the 'opportunity of a lifetime' when the three sisters were offered roles in Tyler Perry's third film, Daddy's Little Girls. Their brother, Gabriel McClain, also appears in the film as the son of Christopher played by Brian J. White.
2011–present: A.N.T. Farm and music career
In 2011, China was cast as the lead role in A.N.T. Farm. She also sings the series' theme song, "Exceptional" which The McClain Sisters co-wrote together. The soundtrack for the show was released on October 11, 2011, featuring two songs by the trio, "Perfect Mistake" and "Electronic Apology".
As of June 14, 2011, The McClain Sisters were with Hollywood Records. Their debut album is scheduled to be released in mid-2012. On November 23rd 2012, Lauryn and Sierra McClain will be guest starring on A.N.T Farm in the second season's hour long special.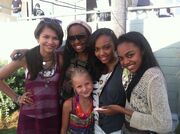 Personal life
Michael J. McClain, father of the sisters, is a music producer and co-manger of their careers. He writes most of their songs along with Sierra. Their mother, Shontell McClain, became a sitcom writer on the Tyler Perry staff. Since then, the McClain Sisters are comprising ideas for television and film projects, as well as children's books. Sierra, Lauryn and China are all honor students. 
Before China Anne McClain was born, a little sister of theirs passed away at the age of 6 months. Their mum was holding their little sister and she fell down the stairs and the baby died. A year later China was born.
Photo Gallery
To view the McClain Sisters gallery, click here.
Community content is available under
CC-BY-SA
unless otherwise noted.