Laisley

Information
Characters
Status

Best Friends

Ship Rivals
Laisley (L/exi and P/aisley) is the friendship pairing between Lexi Reed and Paisley Houndstooth. They are best friends. Along other lines, Lexi seems to control Paisley at times. This ship mainly rivals Chexi (Ch/yna and L/exi) and Lolive (L/exi and Olive).
Additional Names for the Pairing
Pexi (P/aisley and L/exi)
Paxi (Pa/isley and Le/xi)
Lesley (Le/xi and Pai/sley)
Leisley (Le/xi and Pa/isley)
Paiexi (Pai/sley and L/exi)
Laisley Moments
Season 1 Moments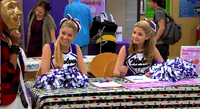 Paisley helps Lexi recruit new members for cheerleading.
Paisley helps with the cheerleader tryouts.
When Paisley was turned around during the cheer Lexi helped her.
When Paisley got hit in the nose by Chyna on accident, Lexi helped her.
Lexi looked very concerned when Paisley's nose was hit.
Paisley helped Lexi with admissions to the dance.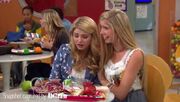 Paisley got cucumber for Lexi after she asked her to get one.
Both of the girls auditioned for the next birthday party for kids.
Paisley made a balloon helicopter and yelled for Lexi to grab it after she fell into the kiddie pool.
Paisley rose her hand to vote for Lexi to be at the next kids birthday party.
Lexi felt as if all of the children liked Paisley better.
Paisley helped Lexi figure out why she didn't get invited to a cheerleader's birthday party.

Paisley has been invited to Lexi's party.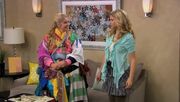 Paisley shared a room with Lexi.
Lexi said she needs to use Paisley's suitcases for her trip to L.A.
Paisley helps to find Lexi's suitcase of makeup.
Paisley was the only one who clapped for Lexi at the end of her performance.
Paisley lends her suitcase to Lexi.
They wrap presents together.
They later worked as Santa and an Elf.
Paisley said "Shut up Paisley" for Lexi.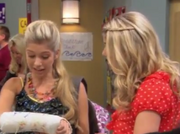 Lexi gets jealous when Paisley gets all the attention.
Lexi signs Paisley's cast.
Photo Gallery
To view the Laisley gallery, click here.
Community content is available under
CC-BY-SA
unless otherwise noted.