High Heels High is a television show in the A.N.T. Farm-universe that Chyna stayed up all night to watch before she had to take a test in the episode SciANTs Fair.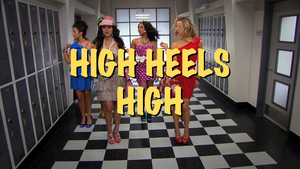 Background
High Heels High was introduced when Chyna asked her dad to watch the show like everyone else in the high school. Though Chyna's dad Darryl usually doesn't allow her to watch T.V. on school nights, he permits her to watch just one episode with the promise that she would study for her science test immediately after. After the conversation, Chyna is shown in her room watching the season finale on her A.N.T. Pad.
Plot, Summary, and Reviews
High Heels High
is about five catty teenage girls in high school.
Justine
is the queen bee who plots against her enemies for revenge in extremely outlandish ways. All the girls in the show are extremely fashion-conscious and wear heels with all their designer outfits (hence the name). The season finale of the show is shown in an episode of
A.N.T. Farm
and ends with the enemy of the queen bee, the object of a horrible prank, revealing her new face after the surgery she was forced to have from her injuries. The prank that had harmed her enemy so much, ended up bac
kfiring on the popular main character who discovers that the new face of her enemy is actually identical to her own.
Trivia
They seem to have many episodes, as Chyna stayed up all night watching the show, she had watched more than one episode leading up to the finale. If Chyna went to bed at 9:00, the show probably has 20 episodes.
Every episode is unknown
It can be assumed that the show is highly popular as far as ratings goes, as Chyna had told her father that all of the kids at her school watched High Heels High.
It makes a first and only appearance in the A.N.T. Farm episode SciANTs Fair
Video Gallery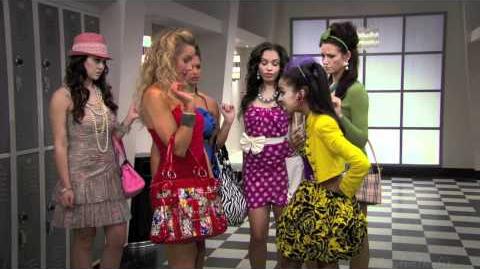 Community content is available under
CC-BY-SA
unless otherwise noted.