Fiolet

Information
Characters
Status

Friends (One Sided Crush to Violet's side)

Ship Rivals
Fiolet
(
F
/letcher and V/
iolet
) is the romantic/friendship pairing of
Fletcher Quimby
and
Violet
. Violet has a major crush on Fletcher, but he doesn't seem to like her back, considering that he likes
Chyna
. Also, Fletcher is terrified of Violet because she has slight anger issues. ln the second season, Violet is in love with Fletcher, and Fletcher seems to be warming up to her, but as a friend. It is possible that Chyna ships this since she told Violet that Fletcher likes her, or maybe she just wanted Violet to calm down. This relationship
mainly
rivals
Flyna
(
Fl
/etcher and C/
hyna
),
Folive
(
F
/letcher and
Olive
) and
Faisley
(
F
/letcher and P/
aisley
).
Addtional Names for the Pairing
Fiolet (F/letcher and V/iolet)
Viletcher (Vi/olet and F/letcher)
Fliolet (Fl/etcher and V/iolet)
Violetcher (Violet and Flet/cher)
Fletchiolet (Fletch/er and V/iolet)
Fletchlet (Fletch/er and Vio/let)
Fletlet (Flet/cher and Vio/let)
Fleet (Fle/tcher and Viol/et)
Flet (Fl/etcher and Viol/et)
Vletcher (V/iolet and Fletcher)
Fletchet (Fletche/r and Viole/t)
Viotcher (Vio/let and Fle/tcher)
Fiolet Moments
Season 1
Violet claims that she loves Fletcher.
Violet says that not knowing how Fletcher feels about her makes her go crazy.
Violet gives Fletcher a big hug.
Violet is jealous that Fletcher and Lexi have to kiss in the ballet number.
Violet wanted to kiss Fletcher.
Fletcher says that Violet's painting of a "horse" is beautiful.
Violet "holds" (carries) Fletcher and gets mad when Fletcher thought Violet was painting a horse instead of her grandmother.
Violet accidentally drops a cinderblock on Fletcher's foot.
She stares at Flecher for 2 minutes in Ballet DANTser
Season 2
Fletcher and Violet are very friendly towards each other in this episode.
When Olive asked about reading her biography, Violet and Fletcher were right next to each other. 
Violet was admiring Fletcher's burp painting
when Chyna said the baby needed to be found, Violet and Fletcher's shoulders were touching
Violet and Fletcher came up with the whittled Idea. So they must have spent time together.
When entering Chyna's house to retrieve Sebastian, Fletcher is walking in the back of the group but scurries next to Violet.
When Violet flips Darryl on the table, Fletcher copies her by breaking the vase.
After that, he looked proudly at Violet.
Violet and Fletcher sleep next to each other when Chyna sings her lullaby.
When Violet sang Fletcher was looking at her
Fletcher was with Violet for most of the episode.
Fletcher wasn't trying to hit on Chyna in this episode
Violet tricks Fletcher into asking her to the dance.
Violet screams and knocks a box over out of jealousy when Fletcher lies that he is going to the dance with Chyna.
Violet dances with Fletcher while Chyna is singing "Dancing By Myself".
Violet calls Fletcher "Fletchie" and "her boyfriend".
Violet says that she needs a boyfriend to have fun, and then drags Fletcher out of the crowd much to his dismay.
Fletcher and Violet danced next to each other and Violet gave Fletcher a little wave.
Fletcher and Violet are seen standing very near each other when the episode starts.
Violet nods agreeably when Fletcher claims there are different kinds of intelligence.
When Fletcher is explaining the different types of intelligence, he pauses briefly to glance at Violet several times during his speech
Violet and Fletcher simultaneously complain when they find out they are taking a test, possibly meaning they get each other.
When Fletcher gets his results back, he is right in front of Violet.
Also when he is talking about his good score, Violet agrees.
They are able to get along well and have a friendly interaction, without any fear or flirtatiousness.
Violet got mad when Fletcher asked if Chyna would be his date to the movie premiere instead of her.
when Fletcher was looking through crushes and gets frustrated, Violet looks like she's going to comfort him.
When Violet was talking to Olive about bodies, Fletcher's arm was behind Violets, like his hand was around her hip.
When Chyna was struggling to sit in the chair Violet's and Fletcher's hands brushed.
They were next to each other for most of the time.
Violet gets jealous when Fletcher begins rummaging through Chyna's past crushes. 
When Violet was in Fletcher's body she said it was adorable, and subsequently, hugged it. 
when Chyna finished her story Fletcher and Violet were right next to each other.
When the kids ran out of the classroom Fletcher was right behind Violet.
Fletcher was nicer to her and looked at her for 20 seconds.
Fletcher's View of Violet
Fletcher is afraid of Violet to the point of hiding in a box to avoid getting asked to the dance by her (FANTasy Girl .) But, they have shared nice moments (InfANT).
Fletcher thinks Violet paints well. (Ballet DANTser)
Violet's View of Fletcher
Similarities
They both don't like to do tests.
They both broke items (Violet breaks a table and Fletcher breaks a vase.)
They both have brown hair (not the same colour but both brown.)
They both wear purple a lot.
Fiolet Quotes
Fiolet Dictionary
A
A.N.T: What Fletcher and Violet are.
A.N.T. Farm: The program they are in.
B
Baby: The official Fiolet mascot.
Babysitting: Is what Fletcher and Violet were doing together.
Ballet: Is what Violet enjoys doing, and is where she confessed her feelings for Fletcher.
Boyfriend: Is what Violet considers Fletcher to her.
Box: What Violet pushed over when Fletcher said he was going to the dance with Chyna.
C
Candy-Cane: The official color.
Cinderblock: Is what Fiolet threw on Fletcher's foot.
Fiolet Fanon
Fiolet Colors: Purple and Red/White. Fletcher seems to wear a lot of purple and he uses the color purple in many of his sculptures and paintings. This is also the color that Violet wears the most because she seems to like to show school spirit. Red and white colors are also on the Canadian flag, which corresponds to Violet's famous line "He went AWOL? I say we check Canada" (in InfANT).
Fiolet Animal: Swan- Is what Fletcher dressed up as in Ballet DANTser, which is also the episode where Violet declared Fletcher as sensitive in response to his girly getup.
Fiolet Mascot: Babies- In InfANT, Fletcher and Violet (and Chyna and Olive) took care of baby Sebastian.
Fiolet Day: June 1st. This is the day when InfANT aired. In InfANT, Violet and Fletcher were more friendly to each other. It can also be June 8, because this is when FANTasy Girl aired and they had the most moments in this episode.
Official Fiolet supporter name: Fioleters. It sounds like a hybrid Fiolet and fighters.
Fiolet Wiki (Still in Progress), Click Picture.

Fiolet Songs
Call Me Maybe by Carly Rae Jepsen.
You Belong With Me by Taylor Swift.
Smile by Avril Lavigne.
Breakeven by The Script
Had Me @ Hello by Olivia Holt
Crushcrushcrush by Paramore
Ready Or Not by Bridgit Mendler
Fiolet Fan-Art Gallery
Fiolet Userboxes
Code:Fiolet
| | | |
| --- | --- | --- |
| | | This user ships Fiolet! |
Code:Fiolet Lover
| | | |
| --- | --- | --- |
| | | This user believes that sparks fly between Fiolet! |
Code:KeepCalmFiolet
| | |
| --- | --- |
| | Keep Calm and Ship Fiolet!!! |
Featured Content
NOTE: Featured content changes every Friday.
Featured Moment: In FANTasy Girl Violet asks Fletcher out with a football.
Featured Song: You Belong With Me by Taylor Swift.
Featured Episode: InfANT.
Featured Quote:
Violet: I really liked the message of your song, Chyna. You don't need a boyfriend to be happy. (Yells) BUT I DO!!! (Pulls Fletcher out of the picture)

Fletcher: (As getting dragged away)Aaah!
Fanfiction
Fanfiction Fiolet section click here.
Fiolet Plots
In this episode, Violet comes to the ANT Farm and admits to Chyna she likes Fletcher. Then, she learns in the ballet that Lexi has to kiss Fletcher, and takes the egg to kiss him herself.
In this episode, Violet continuously asks Fletcher out. And, in the end, after Chyna performs Dancin By Myself, Violet claims she needs Fletcher and drags him away.
Similar Couples
Oliver Oken/Joannie Palumbo (From Hannah Montana)
Joannie (Violet) was a tough jock.
Joannie (Violet) liked Oliver (Fletcher).
Sam/Freddie (Seddie) (From iCarly)
Sam (Violet) was a tough girl with an attitude.
Sam (Violet) liked Freddie (Fletcher).
Sam (Violet) would hurt Freddie (Fletcher)
Freddie (Fletcher) was occasionally considered dorky.
Skylar Lewis/Ryan Dean (From Girl vs. Monster)
Skylar (Violet) liked Ryan (Fletcher).
Ryan (Fletcher) was slightly timid.
Skylar (Violet) was fearless.
Skylar (Violet) was sassy.
Skylar (Violet) was strong.
Oliver Oken/Lily Truscott (From Hannah Montana)
Lily (Violet) was athletic.
Lily (Violet) was a tomboy.
Lily (Violet) liked Oliver (Fletcher).
Oliver (Fletcher) was occasionally quirky.
Dez/Mindy (From Austin & Ally)
Mindy (Violet) is a tough girl with an attitude.
Dez (Fletcher) is very goofy.
Mindy (Violet) likes Dez (Fletcher) and is very forceful with her affection.
Eddie/Loca (From That's So Raven)
Loca (Violet) appears to be very tough.
Loca (Violet) hits Eddie whenever he sees him.
Eddie (Fletcher) is scared of Loca (Violet).
Jo/Gabe (From Good Luck Charlie)
Jo (Violet) is tough.
Jo (Violet) is friends with Gabe (Fletcher) and likes him.
Our Fioleters
Fiolet Photo Gallery
To view the Fiolet gallery, click here.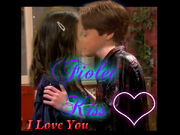 Community content is available under
CC-BY-SA
unless otherwise noted.