Dilive

Information
Characters
Status

Exes

Start of relationship
Ship Rivals
Dilive (Di/xon and O/live) is the romantic pairing of Olive Doyle and Dixon Ticonderoga. They broke up. This pairing mainly rivals Folive (F/letcher and Olive) and Angive (Ang/us and Ol/​ive). They are portrayed by Sierra McCormick and Ben Winchell.
Additional Names
Dolive (Dixon/Olive)
Dive (Dixon/Olive)
Olixon (Olive/Dixon)
Dixive (Dixon/Olive)
Olivixon (Olive/Dixon)
Olivon (Olive/Dix/on)
Rivals
Dilive Moments
Olive tricked both Chyna and Lexi so she could date Dixon.
Olive is interested in Dixon.
Olive called Dixon a dollface.
Dixon thinks of Olive as 'the most secretive, underhanded, and manipulative girl' he has ever met.
Dixon thinks that Olive is just his type.
Dixon takes Olive with him into his helicopter.
They had their first date in this episode.
Olive wiped his mouth with a napkin.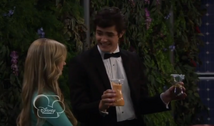 When Olive found out Chyna couldn't tell the truth, she immediately guessed Chyna had taken Dixon's anti-truth serum, showing that she knows (or has been shown) some if not all of Dixon's gadgets.
When Olive threatened to break up with Dixon if he wouldn't give her the salad dressing, he immediately asked her which dressing she wanted, despite having said it was a dangerous weapon that could destroy the modern way of life.
Olive talked on the phone with Dixon saying that she missed him and she didn't want to hang up.
Dilive Fanon
Dilive Colour
Purple is the colour of Dilive because in their first date Olive's dress was blue and Dixon's rose was red so blue + red = purple.
Dilive Songs
Secret Girl - Alex Goot
Secret Crush and Secret Agent - Melissa Etheridge.
Good Enough - Little Mix
What Olive thinks of Dixon
She thinks of him as a dollface (Secret agANT).
At the beginning of the episode secret agANT, Olive liked Dixon, but she didn't show it and didn't reveal it until the end of the episode.
What Dixon thinks of Olive
He thinks she is the most secretive, underhanded, manipulated girl he has ever met, and he thinks she's just his type (Secret agANT).
Dilive Gallery
To view the Dilive gallery, click here.
Community content is available under
CC-BY-SA
unless otherwise noted.