Dayna

Information
Characters
Status

Family

Ship Rivals
Dayna
(
Da
/rryl and Ch/
yna
) is the father-daughter pairing of
Darryl
 and
Chyna Parks
. Darryl seems to be a bit overprotective of Chyna, as seen in
TransplANTed
, when he pulled her away from Gibson, and in
You're The One That I WANT
, he pulled her away from Fletcher. But in StudANT Council, he says that Chyna doesn't care about what he says. He tells Fletcher this when he asks for Darryl's blessing, in case he and Chyna get married.
(Even though he does not directly say this, it is his intention).
This pairing
mainly
rivals
Darron
(
Dar
/ryl and Camer
/on
),
Doxanne
(
D
/arryl and R/
oxanne
), and
Chameron
(
Ch
/yna and C/
ameron
).
Additional Names for the Pairing
Dayna (Da/rryl and Ch/yna)
Chynrryl (Chyn/a and Da/rryl)
Dahyna (Da/rryl and C/hyna)
Carryl (C/hyna and D/arryl)
Chyarryl (Chy/na and D/arryl)
Charryl (Ch/yna and D/arryl)
Dayna Moments
Season 1 Moments
Darryl calls Chyna, '"giftedly talented".
Chyna knows that her dad won't allow her to go to Lexi's party.
Darryl checks up on Chyna and finds out that she is missing.
Darryl busts Chyna at the party. Darryl pulls Chyna out of the A.N.T. Program but then allows her back in.
Darryl lets Chyna watch "High Heels High" for the exception of one school night.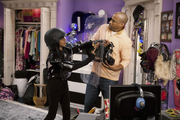 Chyna ignores her dad and thinks about Nigel.
Darryl wants to protect Chyna.
Chyna assures her dad that she will be okay on the date.
Darryl cries when he finds out that Chyna is going on her first date.
Chyna helps her dad's fear of flight.
Darryl knew how important to L.A, so Chyna could compete in the final round of America Needs Talent.
Darryl is supportive of Chyna's carrier as a professional singer.
Darryl is in the audience when Chyna's performing her song "Beautiful".
Darryl picked out Chyna's outfit to wear on America Needs Talent.
Chyna gives her dad a gift card to his favorite restaurant for Christmas
Chyna enjoys talking about taking her father to the emergency room multiple times.
Chyna's concerned about what her dad was looking for at the beginning of the episode.
Chyna fills Darryl in that Roxanne didn't get anything for him yet.
Darryl went to the musical Chyna got the lead in.
When Fletcher hugged Chyna, a Flyna moment, Darryl pulled Fletcher away from Chyna, probably because Chyna gave him a sign to get Fletcher off of her.
Photo Gallery
Community content is available under
CC-BY-SA
unless otherwise noted.