"confinemANT" is the tenth episode in Season 2 of A.N.T. Farm. It aired first aired on Disney Channel in the United States on August 24, 2012.
Plot
Chyna, Fletcher and Olive become convinced Principal Skidmore is going to cut funding for the art and music programs because of some papers Olive saw Principal Skidmore drop when she crashed her bike into her. Meanwhile, Lexi takes over the morning announcements, which used to be Cameron's thing. Chyna, Fletcher, Olive, and Angus then get locked in the A.N.T. Farm because Skidmore does not want them to know how old she is because in the papers she dropped was a copy of her birth certificate. They then have to stop the school board from cutting art and music because it was their fault. When Chyna performs a song that the school board enjoys, they cut art and music anyway.  However, Skidmore gets the head of the board to vote the rule after she reveals to him that he has an embarrassing picture of him washing his car topless and wearing hot pants. 
Meanwhile, Lexi discovers that Cameron does the school morning announcements when no-one pays attention to her. So, she steals the limelight without giving Cameron a chance to get his attention. When Cameron gets upset and says that Lexi is unbelievable because of what she did and that she took away the attention he deserves, Lexi finally gives Cameron his chance to shine but he gets injured in the process.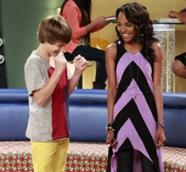 Cast
Trivia/Goofs
The subplot is very similar to the one in PatANT Pending because in PatANT Pending Lexi is trying to steal attention away from Paisley and her broken limbs because no one would take a look at her new outfit while in this episode, Lexi is trying to steal attention away from Cameron and his morning announcements because no one would take a look at her new outfit.
Lexi claims that she is wearing a periwinkle jacket, but the jacket is bright blue and periwinkle is a pale shade of blue.
Lexi's so-called hit song, "I'm Lexi and I Know It" is a parody of LMFAO's song, "I'm Sexy and I Know It".
It is revealed in this episode that Susan Skidmore recorded a 1975 disco album entitled Saturday Night Skidmore. Its title is a parody of the movie Saturday Night Fever starring John Travolta.
When the ANT's try to break out using the bow and arrow when Cameron gets hit in the knee, it makes reference to the video game The Elder Scrolls V: Skyrim.  In the game, many NPCs claim that they "used to be an adventurer like you, but then I took an arrow in the knee." This has become an internet meme, and this is likely where the writers got the idea.
Also, when Cameron got hit in the knee, he appears to be in a lot of pain and can't walk, but in the next scene he's in, he appears to be fine and not in pain at all.
In "ANTswers", the librarian appears to be dead, and in this episode, Cameron tries to make people think the librarian isn't dead.
In Poland, this episode is called "The Closing"
When Olive is throwing up, you can see through her hair nothing is coming out.
In this episode, it is shown that Lexi actually cares about Cameron. 
Featured Songs
Gallery
To view the ConfinemANT gallery, click here.
Community content is available under
CC-BY-SA
unless otherwise noted.