Was this the page you were looking for?

This page is for the ship of the real life actors. You may be looking for the character ship.
Chierra

Information
Characters
Status

Best Friends and Co-stars

Ship Rivals
Chierra (Ch/ina and S/ierra) is the friendship pairing of China Anne McClain and Sierra McCormick. They have known each other two years prior of the A.N.T. Farm premiere, and are really close friends. They've both guest starred in the same scene on an episode of ''Hannah Montana" back in 2009, so it is possible that they both have met on that set. It mainly rivals Steferra (Stef/anie and Si/erra) and Chefanie (Ch/ina and St/efanie).
Additional Names for the Pairing
Sina (Si/erra and Chi/na)
Cierra (C/hina and S/ierra)
Shinrra (S/ie/rra and C/hin/a)
Chera (Ch/ina and Si/er/r/a)
Sihina (Si/erra and C/hina)
Shina (S/ierra and C/hina)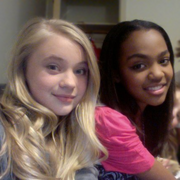 Chierra Moments
As seen in some behind the scenes A.N.T. Farm commercials, China and Sierra help each other rehearse their lines.
In a Radio Disney interview, China gushes about how Sierra always knows China's lines, and reminds China when she forgets.
They both pose for pictures with each other on the Hannah Montana set, and on Billy Ray Cyrus's parking space.
They once went to the beach together.
They took a picture hugging at the beach together.
When asked about her favorite thing to do in Disneyland in a Fanlala interview, China answered, saying that she loved riding on all of the amazing rides with Sierra McCormick. She said that they both also liked to shop there and eat churros.
Before A.N.T. Farm, they worked on a TV pilot (which didn't get picked up by Disney Channel), "Jack and Janet Save the Planet," with Jake Short.
They went to Disneyland together.
In her second Radio Disney interview, China says that Sierra is adorable, and that most people would have never known that she likes Ke$ha and Katy Perry. China says that Sierra is very interesting and she knows a lot about fashion. She and Sierra have gone to the beach and to the mall, but they haven't had a sleepover yet. China also reveals that she knows that Sierra has a huge crush on James Franco. 
Photo Gallery
To view the complete Chierra gallery, click here.
Community content is available under
CC-BY-SA
unless otherwise noted.