Celesta DeAstis

Biographical
Information
Image

Celesta DeAstis

Nickname (s)

Female

Date of birth

Chicago, IL

Height

Brown

Eye color

Black

Hair color

Actress

Occupation
Celesta DeAstis is an American actress who was born in Chicago, IL. She portrays Mckenna in the A.N.T. Farm episode, CANTonese Style Cuisine.
Biography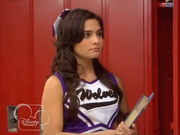 Born and raised near Chicago IL, Celesta grew up around theater. Her Uncle, sister, and cousins are accomplished off-Broadway Actors as well as commercial stars. Going to the theater since an early age with her parents, Nick and Maria, instilled a love for acting in the young child. With a very large Italian family for support, Celesta began in theater at the age of seven. With all the family applauding her in the audience, she fell in love with the idea of entertaining people in a make-believe world. From seven to twelve years old, Celesta began studying the art of acting as well as dance and horse-back riding. "Always busy" is how Celesta's friends remember her. Auditioning, acting classes, and acting in theater, are the things Celesta lived for as a child. "This life wasn't always easy for me" recalls Celesta. I didn't want to participate in school sports because I was afraid to miss out on an audition. I took a lot of mean remarks from a lot of kids who just didn't get it. At thirteen, through an audition, Celesta landed an agent and manager in Hollywood, California where she continues to study her craft and build her resume. Other than acting, Celesta considers her 6 years as a Girl Scout and 4 years teaching summer Bible Camp as an accomplishment. They were tools that taught her many valuable lessons in life. Celesta comes from a very close-knit family where cousins are like brothers and sisters, and grandparent's still rule the roost. She is grateful that God gave her such wonderful parents who taught her the most valuable lesson ever... Nothing is impossible if you believe!
Twitter Feed
From Celesta DeAstis's Twitter:
Gallery
To view the Celesta DeAstis gallery, click here.
External Links
●
Twitter page
● Celesta DeAstis at the Internet Movie Database
Community content is available under
CC-BY-SA
unless otherwise noted.