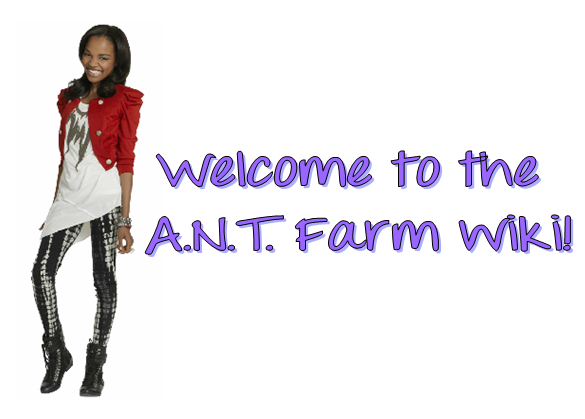 Welcome to the A.N.T. Farm Wiki! We are so glad to have you, and we hope we build our community with you.

We are glad to have you. We strive to make this Wiki a better place for you. Here are some projects we are doing:

You can join this project by clicking "Edit" and putting your username under the last username!
We have more than that, but that is our featured one. Some of the characters aren't big enough for a whole article, so they are stored here. For characters who have articles, we have galleries, and the actors, and the actors galleries, so if you have pictures of an actor or character, you can add them in the galleries.
For actors and such, we have the twitter feed. It shows the latest "tweets" that actor has made. And we also have other links (i.e. IMDB, Facebook, etc.)
Some of the pages are protected because of vandalism on that page or protection because that is a featured article. The main character pages like Chyna Parks are protected but you have an account to edit the page. If you need to edit a page that is protected, or need to add something, ask an admin to do it for you or unprotect it long enough for you to edit it.
Our head admin is KataraFan. Without her we wouldn't be a wiki. She creates most of the articles, mostly episode articles, and she leads Project:Episodes.
We have a complete database so far of the A.N.T. Farm franchise, but we still need a lot of help. And you can help! There are still things that need to be added, corrected, and even more.
Thanks,
--Evanf (Talk) 17:42, June 2, 2012 (UTC)
And don't forget to follow us on Twitter!
Community content is available under
CC-BY-SA
unless otherwise noted.