A.N.T. Farm
Format
Teen sitcom
Created by
Dan Signer
Starring
China Anne McClain
Sierra McCormick
Jake Short
Stefanie Scott
Carlon Jeffery (season 1-2)
Aedin Mincks (season 3)

Theme music composer
Toby Gad, Lindy Robbins, China Anne McClain, Lauryn McClain, Sierra McClain
Opening theme
"Exceptional", performed by China Anne McClain
Country of origin
United States
Language(s)
English
No. of seasons
3
No. of episodes
62 (List of episodes)
Production
Executive
producer(s)
Dan Signer
Stephen Engel
Location(s)
San Francisco, California (setting)
Hollywood, California (taping location)
Camera setup
Videotape (filmized);
Multi-camera
Running time
23 minutes
Production
company(s)
It's a Laugh Productions
Gravy Boat Productions
Disney Channel Original Productions
Broadcast
Original channel
Disney Channel
Picture format
480i (SDTV)
720p (HDTV)
Original run
May 6, 2011 – March 21, 2014
Status
Cancelled
External links
Official website
A.N.T. Farm is an American sitcom which originally aired on Disney Channel from May 6, 2011, to March 21, 2014. It first aired on May 6, 2011, as a special one-episode preview and continued as a regular series starting on June 17, 2011. After airing as the preview of the series, the pilot episode "transplANTed" later re-aired after the series finale of The Suite Life on Deck. The series was created by Dan Signer, a former writer and co-executive producer of The Suite Life on Deck and creator of the YTV series Mr. Young. In mid-November 2010, Disney Channel greenlighted the series, with production beginning in early 2011. The first promo was released during the premiere of Lemonade Mouth.
Taking place in San Francisco, the series stars China Anne McClain, Sierra McCormick, and Jake Short as middle-schoolers in a gifted program at their local high school called the "Advanced Natural Talent" or "A.N.T." program.
Plot
A.N.T. Farm revolves around Chyna Parks (China Anne McClain), an 11-year-old musical prodigy, who has just become the newest A.N.T. (Advanced Natural Talents) in the A.N.T. program at Webster High School in San Francisco, California. On her first day, she meets Olive Doyle (Sierra McCormick), an odd girl who has a photographic memory, and Fletcher Quimby (Jake Short), an artistic genius (but otherwise quite dim) who falls deeply in love with her when they first meet. They soon become her best friends at the high school. They proceed to go on multiple adventures, using their talents to their advantage. Before Chyna meets Olive and Fletcher, she meets Gibson (Zach Steel), the counselor, tutor, and therapist of the A.N.T. Farm, who is a strange, goofy guy who isn't the brightest person. The school's "it" girl, Lexi Reed (Stefanie Scott), is one of the teenagers who thinks the ants are little kids at Webster. She proceeds to bully Chyna, thinking of her as competition in being the star of the school. Chyna's bumbling older brother, Cameron (Carlon Jeffery), attempts to avoid Chyna in high school as much as he can, afraid she will be an embarrassment to him. Lexi's best friend Paisley, (Allie DeBerry) and Chyna, Olive, and Fletcher's friend Angus (Aedin Mincks) share major recurring roles on the series.
Season 3 takes place at a boarding school instead of at Webster High School held by a big technology company, Z Tech, ran by Zoltan Grundy (Dominic Burgess). The series ended with Fletcher (Jake Short) winning an art fellowship in New York City.
Production
Development
Disney Channel announced on November 11, 2010, that they had greenlighted the show for production, which began in early 2011. The show was first conceived when Dan Signer, creator of the show, saw China Anne McClain. "The girl had so much confidence. She can nail a joke. She can sing. She can play instruments. It's like China was some sort of child prodigy [...] And that's when it hit me: Why not build a show around a child prodigy? Someone who's got all of this natural talent & ability, but is still challenged when she's sent off to high school at the age of 11?" Signer said in an interview. After the first few episodes of the show were shown, Disney Channel bumped up their order of episodes for the show from 13 episodes to 26 episodes for the first season. On November 19, 2011, the series was renewed for a second season, which would start filming in early December.
Casting
Sierra McCormick was cast after an audition where she continually talked about tigers. Dan Signer stated "And as I heard her continually talking about tigers, I thought 'That's just how Olive would sound,' because Olive is a fast-talking, intelligent student whose talent is memory. Which is how Sierra got that part." Jake Short was the last of the three core characters to be cast. Caroline Sunshine was originally cast as Lexi and Stefanie Scott as the role of Tinka Hessenheffer in Shake it Up, but Dan Signer decided that Sunshine would be better as Tinka and Scott as Lexi, so the two switched roles. Sunshine, however, would later guest star in the episode "some enchANTed evening".
Achievements
A.N.T. Farm was the number one show on Disney Channel in 2011 within the 6-11 demographic.
It was nominated for an NAACP Award in February of 2012.
Characters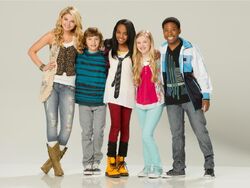 Main characters
Recurring characters
Episodes
Main article: List of A.N.T. Farm episodes
Season
Episodes
Originally aired (U.S. dates)
Season premiere
Season finale
1
25
May 6, 2011
April 13, 2012
2
20
June 1, 2012
April 26, 2013
3
17
May 31, 2013
March 21, 2014
Soundtrack
Main article: A.N.T. Farm Soundtrack
Tracklist
Release
Critical reception
The series's premiere earned mixed reviews. It also currently holds a 6.0 making "Fair" rating (based on 56 votes) on TV.com, and 5.2/10 rating (based on 142 votes and 5 reviews) on IMDb.com.
Ratings
The sneak preview of the series earned 4.4 million viewers on its premiere night, ranked as TV's No. 1 Telecast in Total Day among Tweens 9-14 (441,000/1.8 rating) and was also TV's No. 1 Telecast among Kids 6-11 (544,000/2.2 rating). Its lead-in, the series finale of The Suite Life on Deck, got 4.6 million.
The episode "The PhANTom Locker", is currently the most-watched episode of the series, scoring 4.6 million viewers. It did better than its lead-in Wizards of Waverly Place, which got 4 million viewers.
A.N.T. Farm Wikis in other languages